Award Quick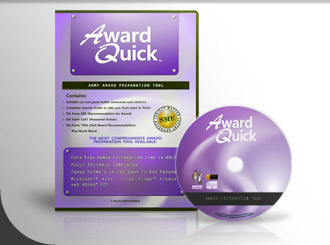 Award Quick is a tool that will help you prepare Awards for your subordinates. Compose meaningful achievement statements and citations.
This all inclusive product provides you with everything you need to construct professional awards. Samples are broken down into achievement statements, opening sentences, helping sentences, closing sentences, and citations.
Screenshots





Features
100's of Award Writing Statements

Including Achievement Statements, opening, helping, closing statements, and citations from actual awards.

Web Resourse Links:

Award Order of Precedence
Award Rack Builder
HRC Military Awards Branch

Example Documents Including

Bronze Star Narrative and Citations
Legion of Merit Narrative and Citation
Medal of Honor Citation
Example Letters of Lateness
Amendment of Orders
Revocation of Orders

References

AR 600-8-22
DA Memo 600-8-2
AR 670-1
AR 600-8-2

Writing Tools that Include

Award Recommendation Guidelines
Helpful Word Combinations
Helpful Phrases
Comprehensive List of: Adjectives, Nouns, Verbs

Blank Forms in Lotus Viewer(LV), Microsoft Word(WD), and editable PDF's(PDF)

DA FORM 638, APR 2006 Recommendation for Award (LV,WD,PDF)
DA FORM 7594, APR 2006 Unit Award Recommendation (LV,PDF)
DA FORM 4187, JAN 2000 Personnel Action (LV,WD,PDF)
System Requirements
Internet connection and administrator privleges required for installation and updates
Windows XP, Vista, or 7, 8, or 10
Mac OS not supported
Ram:256MB—Processor:Pentium IV or Higher
Additional Software Required: Lotus Forms Viewer™
Adobe™ Reader v.4.0 Microsoft® Word 97 or later
and Micrsoft® Internet Explorer v6.0 or greater.