Counsel Quick Series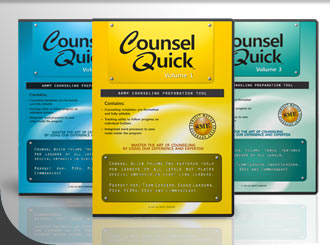 Counsel Quick is a series of software programs designed to help Army leaders prepare for counseling sessions. Each volume contains pre-formatted counseling statements you can use to fill DA FORM 4856 effectively and grow your subordinates.
Screenshots




Features
The program contains counseling templates in Microsoft Word and Lotus Forms Viewer that are pre-formatted and fully editable. The software also contains other guidance such as references and examples that pertain to each subject. The integrated counseling tracker database and notepad help you make tracking daily events and counseling history easier. Counsel Quick is updated regularly and owners of the software receive free updates over the internet.
Improved Navigation Interface

The new interface makes navigating your way around the program much easier.

Ability to Update

Counsel Quick can check itself for updates and will download and install them.
This is very useful in the event of regulation and form changes.

Counseling Tracker

This section allows the user to keep a database of individual soldiers and their current counseling status.
This helps the counselor to keep track of counseling dates and individualized notes on each soldier they counsel.
The user can also print out a report that will display the dates for the soldiers Reception, Initial, and Last Performance counseling's.

My Notes Section

This allows the user to keep a daily journal of events. This makes it easier for the counselor to recall events that happened earlier in the month when preparing monthly performance counseling's.
User can enter anything they want in this section such as soldier data or regulation snippets.

Army Regulations, Field Manuals, and UCMJ

The Reference section contains all of the Army Regulations, Field Manuals, and UCMJ Manuals for Courts Martial referred to in the counseling templates.
This enable the counselor to quickly verify that the pertinent regulations and procedures are being followed and provides a quick resource to lookup Army policies and procedures
Do you like Counsel Quick? You might also be interested in Counselor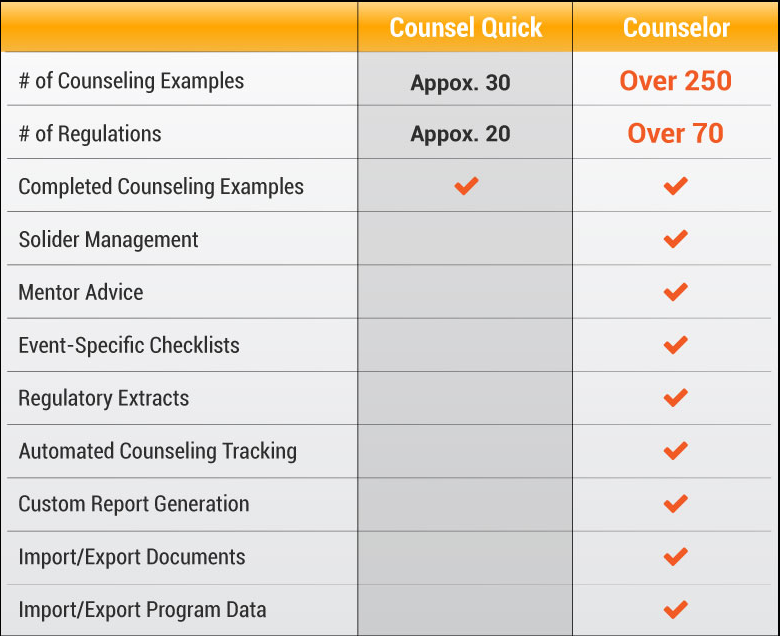 Subjects Covered
Counsel Quick Volume 1
Borderline APFT prior to NCOES
Borderline Overweight Prior to NCOES
Borderline Overweight Unit Weigh In
Diagnostic APFT Failure
Excess Leave
Extended Travel Pass
Failure to Report
Family Care Plan (Initial)
Family Care Plan (Invalid)
Family Care Plan (Valid)
Fully Eligible Not Recommended for Promotion (SGT/SSG)

Indebtedness
Initial Counseling NCO
Initial Counseling PVT-SPC
Initial Overweight Counseling

Monthly Performance Counseling PVT-SPC
Quarterly Performance Counseling NCO
Monthly Overweight (Satisfactory)
Monthly Overweight (Unsatisfactory)
Warrior Leaders Course Counseling
Pregnancy Counseling
Pregnancy Election Statement
Promotion Counseling
Reception and Integration
Record APFT Failure
Request for Tuition Assistance
Safety Counseling
Standard Derogatory (Magic Statement)
Fully Eligible / Not Recommended for Promotion
Counsel Quick Volume 2
3-4 Day Pass Business Card
AWOL
AWOL Letter Home
AWOL Point Paper
Cease Contact Order
Domestic Violence
DUI
Failure to Conduct Risk Assessment
Government Travel Card (Initial Counseling)
Government Travel Card (Misuse of)
GT Improvement
Improper or Inappropriate Relationship
Indebtedness

Initiate or Transfer Flag
Job Well Done Counseling
Leave Request
Leave Safety Pledge
Letter Home Counseling
Letter Home Example
Lift Flag Action
Marriage Counseling
Monthly Performance Counseling
Off Duty Employment Approved
Off Duty Employment Disapproved
Protective Order
Under Age Drinking
Counsel Quick Volume 3
Bar to Reenlistment

Corrective Training

Disapproval of Good Conduct Medal

Disrespect

Drunk on Duty

Emergency Leave

Failure to Utilize Chain of Command

Hazing

Late for Appointment

Letters of Reprimand

Loss of ID Card

Loss of ID Tags

Loss or Damage to Govt. Property


Missed Appointments

Motorcycle Safety

Negligent Weapons Discharge

Off Limit Areas/Establishments

Overweight Appearance

Redeployment Safety Briefing

Special Leave Accrual

Substance Abuse

Under Minimum Weight Standards

Weight Control

System Requirements
CD-ROM Drive
Internet connection and administrator privleges required for installation and updates
Windows XP, Vista, 7, 8, or 10
Mac OS not supported
Ram:256MB—Processor:Pentium IV or Higher
Additional Software Required: Lotus Forms Viewer™
Adobe™ Reader v.4.0 Microsoft® Word 97 or later