Counselor is the next generation of army counseling software from ACO. The software contains over 250 example counselings and documents spanning 76 different categories. Each example comes complete with event-specific checklists, regulatory extracts, and guidance to walk you through every included scenario.
Already own software by ACO?
Do you already own Counsel Quick, Rater Quick, or other software by ACO? You qualify a discount on Counselor!
Click here to buy Counselor and see how much you can save.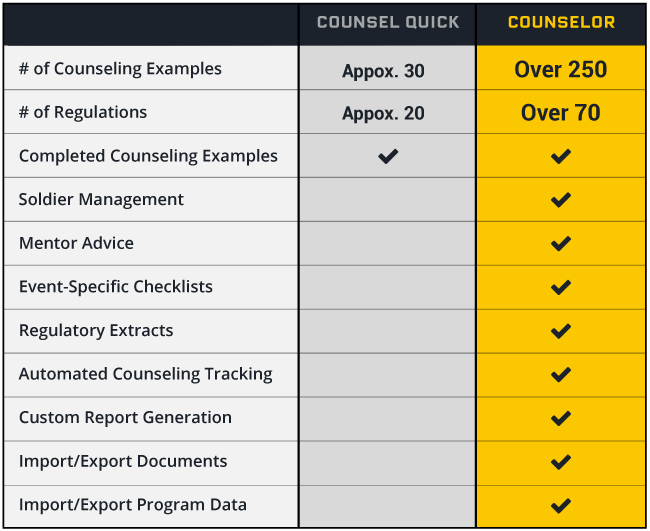 Overview

Digital Mentorship
Counselor includes mentor advice, and event-specific checklists written by Senior Army NCO's and Officers. These documents provide insight to walk you through the counseling process from start to finish. This guide-on-the-side approach grants access to experience for those times when local leaders and mentors are not available.
Soldier Management
View all of your Soldiers in one place alongside a full counseling history, and any notes you've made about the Soldier.
Do you need a list of Soldier's that have not received their monthly performance counseling? How about a list of pending counseling assessments?
Counselor can generate/save custom reports, allowing you organize your information in a number of powerful ways.
Counselor also pre-fills counseling forms with Soldier data, eliminating redundant data-entry and reducing the risk of clerical error.
Army Regulations
Doctrine concerning counseling is not easy to find because counseling sessions can focus on any of a wide collection of collection of topics.
All counselings include regulatory extracts pertaining to the situation.
All Army regulations referenced by Counselor's guidance are available for viewing inside the program in their full versions.
Putting nearly 80 Army regulations at your finger-tips.
Other Features:
Never worry about accidentally deleting an important document. Counselor uses an integrated recycling bin so you can recover deleted documents and soldiers.
Take your data with you with Counselor's import/export feature. Moving to a different office? Simply export the data from old computer, and import it to your new computer.
Buying for an entire unit? Counselor supports volume licensing (VLK). No one wants to track an overwhelming list of keys. With our VLK management system, you can choose how many licenses you want to buy, how many keys you want to use, and manage your licenses from anywhere with our web-based licensing management system.
Counselor's Certificate of Networthiness:
Case ID: 201416827
ASC CoN ID: 9921
From the Field
For many years I've been in search of a product that will not only assist me in keeping my Soldiers' counseling organized, but something that can help with answering questions lingering in my mind everytime I write a counseling. Yes, as a Senior NCO I should be proficient in searching for answers myself, but who is to say I'll find everything that I should? That I'll find the CORRECT answers? That came to an end when I was introduced to the Counselor. Effective assistance is always something that we should all welcome regardless of our rank.

Counselor not only helps leaders produce efficient counselings, but mentors leaders along the way. To me, it acts more like a professional development tool that is not only designed to keep you organized or assist you in writing counselings, but a way to remind you about those "What if's…" that we ofentimes don't think of. As I wrote my first counseling using this program, the questions that the Counselor threw at me allowed me to add to the counseling that I already thought was good enough. Those same questions made my counseling a more thorough and detailed product which not only benefited me during my counseling session, but more so, the Soldier who was being counseled.

Being a counselor has never been so much easier thanks to the Counselor.

—SFC, Hawaii
System Requirements
CD-ROM Drive
Internet connection and administrator privileges required for installation and updates
Windows XP, Vista, or 7 (32-bit and 64-bit)
Mac OS not supported
Ram:512MB
Processor:1.0 Ghz (Pentium III / AMD Sempron 3400+) or higher
Additional Software Required: Lotus Forms Viewer™ version 3.5
Adobe™ Reader v.4.0 or higher, Microsoft® Word 97 or later