Rater Quick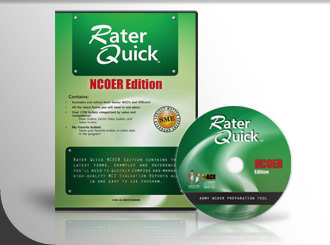 Rater Quick NCOER contains the latest forms, examples, and references you'll need to quickly compose and manage professional NCO Evaluation Reports all in one easy to use program. This is the most up to date, easiest to use, and most comprehensive NCOER program available to Army leaders.
Screenshots





Features
Over 1700 editable cut and paste bullets categorized by value or competency
Completely Portable

Can be installed to a flash drive or portable hard drive

Get guidance from Senior NCO's and Officers that you won't find in any regulation or manual

"My Favorite Bullets"

This feature allows you to store your favorite or most used bullets right inside the program

Includes the following forms:

DA Form 2166-8 March 2006 (NCOER) APD v6.00
DA Form 2166-8-1 March 2006 (Counseling and Support Form) APD v4.00
DA Form 4856 (Developmental Counseling Form) APD v2.00
All forms are in Microsoft® Word and PureEdge™ Viewer

Complete Reference Library that contains all the Army Regulations, DA Pamphlets, DA Memos, and FM's related to the NCOER

Each license key is valid for 3 installations on your computer(s)
System Requirements
Internet connection and administrator privleges required for installation and updates
Windows XP, Vista, 7, 8 or 10
Mac OS not supported
Ram:256MB—Processor:Pentium IV or Higher
Additional Software Required: Lotus Forms Viewer™
Adobe™ Reader v.4.0 Microsoft® Word 97 or later
and Micrsoft® Internet Explorer v6.0 or greater.